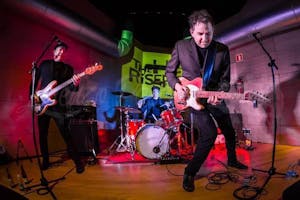 The Hi-Risers & Renegade Lounge appearing at Cafe Nine in New Haven
Rochester's rock 'n' roll roustabouts The Hi-Risers' has become its own thing over the band's near two-decade history, according to guitarist Greg Townson. It's where he wants to be.
"We're not stylized into one particular genre," Townson says. "It just sounds like the band. And that's what you want." The Hi-Risers sound like, well, The Hi-Risers.
When descriptive language, flowery comparisons, or lazy adjectives — "Stones-y, Beatles-esque," for example — fall short, that's when a band can be what it is and truly be called unique unto itself.
The Hi-Risers have been extremely busy, and not just as The Hi-Risers. Townson tours extensively, playing guitar with luchador-masked, instrumental sensation Los Straitjackets, while Bradley swings with the sensuously cool Bossa Nova Bradley Brothers and occasionally with The Lustre Kings. And the newest member, drummer Trevor Lake does time, or rather keeps it, in several other outfits, including Dangerbyrd, The Shine, and Patrick and the Swayzes.
Up until drafting Lake into the ranks, The Hi-Risers had been on a five-year hiatus, other than playing an occasional reunion gig or a show overseas. Then the phone rang.
"Last summer a festival in Spain asked us to come over and celebrate the 10 year anniversary of the album 'Trans-Atlantic Dynamite,'" says Townson, "an album that we had put out with Kaiser George. We headlined one of the days of the festival. While we were there, there was a lot of interest in having us come back over and tour. It was nice to know there was interest over there."
But Townson didn't want to wax nostalgic or play "remember-when."
"I only wanted to do it if we had a new record to bring to the fans," he says, "to keep it fresh. I'm of the mindset that nostalgia is a dead end. Once you're nostalgic, you're toast."
Join surf rockers Renegade Lounge and an all-star cast of New Haven musicians for the 25th anniversary of Quentin Tarantino's magnum opus, Pulp Fiction.
Pulp Fiction revitalized the career of Dick Dale, the King of the Surf Guitar, and introduced a new generation to surf music. Experience the noir-ish, exotic, and psychedelic masterpiece again as Renegade Lounge plays the film soundtrack in its entirety live. And as the house band, they will feature members of New Haven acts such as Dust Hat, the Sawtelles, the Tet Offensive, Mercy Choir, and more.
Renegade Lounge marks the return of guitarist/singer Tim Goselin to his surf rock roots after an absence of five years. Formerly of North Shore Troubadours who crashed into the New Haven music scene and made their mark from 2008-2013, Goselin has formed a band to bring a combination of reimagined hot-rodded NST songs along with a whole new wave of fretboard-burning tunes to the masses yearning for this rock & roll outlier – along with his Teenagers from Mars bandmates Chris Fasanella on keyboards and Brett Harris on bass, and Aaron Nobel on drums – with nods to punk, garage rock, rockabilly, and a healthy dash of lounge lizard-chic. Find yourself missing those hot July days sizzling down by the shore? Come to Renegade Lounge where the temperature is always perfect for a cold beer and a shot of badass rock & roll.
-Karen Ponzio