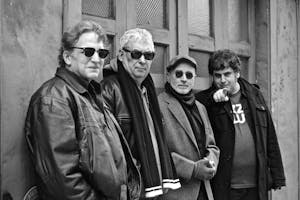 The Sunday Buzz Matinee from Cygnus Radio
The Manchurians, The Sparkomatics
A little Rock and Roll matinee to kick off the new decade.
The Manchurians formed in 1999, carving a solid, rhythm and blues based sound around the songwriting of Roger Reale. In 1978 Reale released the LP, RadioActive (Big Sound/London), a pop underground gem. Since that time Reale has written for, among others, Buddy Guy; BB King; Johnny Winter; Freddie Scott; and the heir apparent to Albert King, Michael Burks. In addition, Reale also recorded an unreleased LP with the late Mick Ronson. The twice Grammy nominated, and WC Handy award nominated songwriter joined forces with ex-Scratch Band (GE Smith, Mickey Curry, Christine Ohlman) harmonica/vocalist Bob Orsi; guitarist/arranger Dean Falcone, who has worked with Jon Brion, Aimee Mann, Bun E Carlos ( Cheap Trick), Jon Auer (Posies, Big Star), Joey Molland (Badfinger); and dynamic drummer Mat Reale (ex-BASE2) to produce, to date, four CD's under The Manchurians' banner. Past members have included: guitarist extraordinaire Mike Roth; and the legendary Hilton Valentine (The Animals). Today, they continue to bring R&B to the masses in their own unique, and inimitable style. Their live shows are characteristically intense and passionate; not to be missed.
The Sparkomatics have been around in one form or another for a long time. They may be long in tooth but they know how to rock. The band draws inspiration from proto-punk and garage bands of the 60's and 70's while bringing their own New England heavy edge.