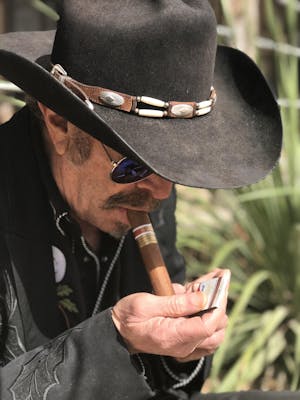 The Merry Kinkster Tour with Kinky Friedman, Brian Molnar, & Cleve Hattersley appearing at Cafe Nine in New Haven
Kinky Friedman Hits The Road To Promote His Resurrection
(Kerrville, TX) Yes, Kinky has been resurrected, with perhaps his greatest work ever, the cd Resurrection (Echo Hill Records), and he's bringing it to the streets for a November, 2019 tour. With twenty-one dates that take him from the east coast, to the midwest, to his home state of Texas, this is just the first leg of a full US tour that will cement Kinky's rep as one of the best performers and songwriters of a generation.
In working with superstar producer, multi-instrumentalist and three-time Grammy winner Larry Campbell, Kinky has finally found the perfect compliment to his jagged edge Texas Hill Country persona. Together with fellow three-time Grammy winning engineer Justin Guip, they have produced eleven amazing cuts that speak to the legends and myths of the great southwest with an inner conviction that belies the raucous days of Kinky's youth. Every appearance on the Merry Kinkster Tour will be a showcase of these masterpieces from a very deep soul.
Many of the dates should actually be called The Merry Kinksters Tour, as he will be joined by his long-time co-conspirator (read: Executive Buttboy) and legendary Austin band leader Cleve Hattersley, whose new book Life Is A Butt Dial (YES Publishing Austin, Texas) tells the tales of his and Kinky's adventures together, plus myriad stories of a life in rock and roll, politics and pot smuggling. Cleve will perform a few songs with his wife, Sweet Mary and read from his book. Brian Molnar, who has accompanied Kinky on several recent tours will be opening nearly all the dates, premiering his new cd, One Of Them (Avenue A records).
With each of Brian Molnar & the Naked Heart's last 3 albums peaking out over fixtures of their genre on radio play charts all around the country, it would not be surprising to have an overwhelming feeling of comfort and familiarity when experiencing their music for the first time. For nearly a decade Brian Molnar has been carrying his acoustic guitar and wrought melodies back and forth across the United States connecting audiences with a feeling of American tradition and unique thoughtfulness that has been too often diluted in recent memory. Now with a full supporting band behind him, sharing the stage with contemporaries such as Ralph Stanley, Chris Hillman, Bernie Worrell, Garth Hudson, and Neal Cassal, it seems that a genuine Americana resurgence is upon us, with each new Naked Hearts' release setting its tone.
Brian Molnar's newest release "Of the Fall" spent 4 weeks standing strong at #1 on the World Wide Roots 66 chart, and remains in the top 10 nearly 4 months after it's release. The band's prior live record "Miss You" hit #7 on the Roots Music Report chart in NY, and #36 country-wide, while the band's previous studio work "Temperance & the Devil" peaked at #27 on AMA (Americana) chart, and #9 on the FAR radio chart in Europe and USA. With such a promising track record and constant live appearances by Molnar with and without the Naked Hearts, the sky is the limit, and makes Brian Molnar a name to remember in the coming years.
"...they continue to push the boundaries of Americana in sound and spirit beyond what has become an ossification too frequent in the form."
-Chris Spectre, Midwest Record, on "Of the Fall"
"The Naked Hearts play Roots Country with conviction… the band demonstrates a thorough understanding of what it takes to make authentic music."
-Steven Stone Vintage Guitar Magazine on "Of the Fall"
"Treading the midnight highway dividing line between country and the Ash Grove, he evokes a turning point just before everything changed and too much got lost."
-Mark S. Tucker, Fame, on "Of the Fall"
"Just when you have had your fill of artists who can obtain a great studio-produced sound, but lack luster onstage (or downright "suck, live"), or in a parallel universe deliver showmanship and power in concert whilst never being able to focus and produce a decent studio record, here is a band that thankfully can capture both."
-Torchy Blaine, WDVR FM, on "Miss You"
"Molnar and The Naked Hearts show enough talent to suggest they can, and will I am sure, go on from here —since the core of the music (ever tastefully produced) and Molnar's story-telling vocal style is compelling."
-Maurice Hope, Americana UK, on "Temperance.." - See more at: http://www.brianmolnar.com/band_bio/#sthash.ya8azov5.dpuf
Cleve Hattersley
Twenty-five years after leaving the road in the middle of Kinky Friedman's sold out two week run at the LA Improv, worn to a nub, and swearing he would never tour again, Cleve Hattersley is hitting the road with his old pal. He has written a tell-all, full title Life Is A Butt Dial - Tales From A Life Among The Tragically Hip (YES Publishing Austin, Texas), so wicked, it was rejected by the Texas A&M Press as "too real." And Kinky is giving Cleve the platform to bring the too real to the unsuspecting masses.
Cleve and his wife Sweet Mary, who will be appearing with him to perform a few songs between short readings from the book, are true Austin legends. Their band, Greezy Wheels, members of the Austin Music Hall Of Fame, played some of the most important shows in Texas history, including Willie's first big show at the infamous Armadillo World Headquarters, the one that found his true fan base and propelled him to his superstardom. Those fans were Greezy fans.
Cleve's book tells that story and many, more. Cleve witnessed the entire cultural (and sometimes violent) revolution of the sixties. He smuggled large amounts of pot, spent time in the Huntsville State Penitentiary for his indiscretions, and managed and booked two of New York City's most infamous clubs, the Lone Star Cafe and the Blue Note Jazz Club. Whether it was catching Hendrix audition for a gig he didn't get, playing water tag in LA with Jim Morrison, or getting kicked out of the Mean Fiddler, the toughest Irish bar in London with Townes Van Zandt, Guy Clark, and Kinky (and they were all on their best behavior!), history has unfolded in front of Cleve throughout his extraordinary life.
Coinciding with the release of the book, Greezy Wheels is releasing their final studio album, Ain't Quite Like That, on their own MaHatMa Records label. Cleve wrote all the originals on the cd, which is already being called "a masterpiece." Of course, the cd will be also be available at all tour stops. Imagine that: Kinky and Cleve, together again. Perish the thought.