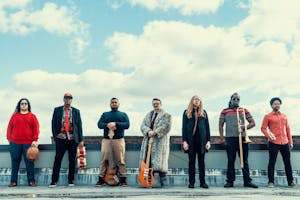 New Haven welcomes the cross cultural rhythms of NYC's The Saturators. Come join the Caribbean Funk party.
In-between Afrobeat and Afrobeats, Reggae and Reggaeton, P-Funk and G-Funk,The Saturators are the live manifestation of David Byrne's 45's collection.
New York City's Caribbean Funk party, The Saturators were concocted in 2015 by guitarist/producer Misha "Silky" Savage & dancehall toaster Redddaz. Unafraid to channel a myriad of influences, their sonic vocabulary spans dance floors from Trinidad to Harlem.
The band has performed at storied venues such as Brooklyn Bowl, B.B King's Bar and Grill, and Knitting Factory Brooklyn.
They've opened for internationally touring acts such as The Wailers, Alika, and Raging Fyah.
A world music jazz afro-funk instrumental collective ensemble from Connecticut, formed in late 2017 and led by drummer and percussionist Jocelyn Pleasant.
Their debut album Diaspora is available for purchase on Bandcamp and all streaming platforms