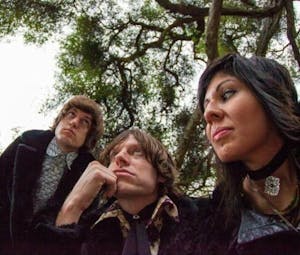 The Schizophonics & Killer Kin appearing at Cafe Nine in New Haven
The Schizophonics are, in one word, EXPLOSIVE. Their frenzied live performances tap into the same unstoppable combination of rock 'n' roll energy and showmanship that fueled the MC5 in the heyday of the Grande Ballroom. When they hit the stage, they grab your attention and don't let go. They've built up a formidable reputation in their home base of San Diego and a fervent following among locals. "One of my favorite live bands ever!" proclaims Tim Mays, who has run the Casbah for over 25 years and seen literally thousands of live bands come through his doors in that time. "The Schizophonics bring the goods every time they play," he enthuses. "Pat Beers is like a cross between Jimi Hendrix and James Brown – yelping, wailing, shralping the guitar with his left hand while gyrating all over the place; Kyle joins in the mayhem on bass and Lety keeps it real behind the kit."
But the Schizophonics are more than just an outstanding live act, they're also committed to writing great, memorable songs, a skill singer/guitarist Pat Beers has continued to hone, channeling such influences as Jimi Hendrix Experience, the Sonics, the Stooges, the MC5, James Brown, and Little Richard.
Pat and drummer Lety Beers first met in Casa Grande, Arizona, before pulling up stakes and moving to San Diego in 2008. They formed the Schizophonics the following year, and have worked tirelessly since then, playing literally hundreds of live shows up and down the West Coast, and further afield. A 2013 tour of Spain with El Vez – who had recruited them as his backing group – resulted in the group's first record release, a three-song 7" EP on the Munster label. In December 2014 they took their act to an arena-sized venue for 91X's Wrex the Halls concert, on a bill that also included Billy Idol, Spoon, Cage the Elephant, and Interpol. Afterwards 91X program director Mike Halloran declared them, "The most exciting band I have seen in many, many years. They must be seen to be believed."
In July 2015 the Schizophonics' second single, "Put Your Weight On It" b/w "Red Planet," was released on the Ugly Things label. This summer they started work on their debut album at Earthling Studios with producer Mike Kamoo. Their future plans also include a European tour in September and October, this time taking in Spain, Italy, France and England.
The modern day equivalent of a Buck Rogers-nemesis. Rock 'n' roll's revenge! The insane children of Killer Kane. Blues and booze-driven rhythm that vibrates vengeful viscera. A true tit for tat testimonial. What it sounds like to get even! Bad Bad Minds & black leather binds. A little creep 'n crawl for all...