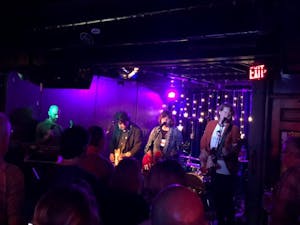 The Sunday Buzz Matinee from Cygnus Radio
The Shellye Valauskas Experience, Bill Dwyer Band
The Sunday Buzz Matinee from Cygnus Radio
It took nearly a decade, but The Shellye Valauskas Experience (Shellye Valauskas and Dean Falcone) will release their second recording, History of Panic, on February 10, 2018. History of Panic, their first full-length album, is the follow-up to the 2008 EP Box It Up, which was named one of the top 10 local releases in the yearly roundups in the New Haven Register and New Haven Advocate. Recorded at Q Division Studios in Somerville, and Firehouse 12 in New Haven, History of Panic features collaborations with artists who have shaped their sound in one way or another – legendary drummer Dave Mattacks (Fairport Convention, XTC, Paul McCartney), Jon Auer (The Posies, Big Star, Dynamo Royale) and Matt Pynn (Dwight Yoakam, Miley Cyrus), as well as New England favorites Ed Valauskas (Juliana Hatfield, The Gravel Pit), Scott Janovitz (The Figgs, Graham Parker), Jen D'Angora (Jenny Dee & the Deelinquents, The Downbeat 5), Abbie Barrett, and Brendan Haley. Also on the album is drummer Jim Balga who goes back to the early '80s with Falcone, as members of legendary New Haven pop combo The Excerpts (which also included Jon Brion).
Based in the New Haven area, Valauskas (a high school biology teacher) and Falcone (who wears many hats) have been making music together for years. In addition to being Valauskas' songwriting collaborator, bandmate & producer, Falcone has served the Connecticut music scene since the early '80s with Jon Brion in The Excerpts, his own Dean and the Dragsters and a host of others. He has also worked on a national level collaborating with Norah Jones, Brian May (Queen), Aimee Mann, Lydia Loveless, Susannah Hoffs and Neko Case. On History of Panic, produced by Falcone, their shared love of the punchy pop of Crowded House, The Posies and Aimee Mann helps them nail a distinctive, accessible, radio-friendly sound from the start.
Bill Dwyer Band formed in Boston in 2010. Bill had been primarily playing drums in his friends' bands for years since his art school days (School of The Museum of Fine Art, Boston) but decided to start something brand new after writing a bunch of songs, learning to play the guitar and finding his voice. He decided to perform as a solo act for a year at first to gauge the response to his material. After repeated warm and positive responses to his solo shows he kept hearing from people that he should "get a band together". So the decision was made. Bill Dwyer Band has been fortunate to have included many amazing people and musicians in it's ranks through the last several years. Current members include Cullen Corley (Drums), Charles Murphy (Bass), Joe Diaz (fill-in Bass) and Attis Jerrell Clopton (fill-in Drums). BDB is a 3 piece band with heart as its main drive. The band released it's first full-length, 15-song album "Renaissance After Sundown" (iTunes, cdbaby, Amazon, Google) in the Summer of 2015. They completed their first tour of Europe in September 2016 with 10 shows in 14 days with stops in Germany, Lille and Paris France, Amsterdam and London. The band had a BLAST as the shows were ELECTRIC and they were warmly welcomed by audiences everywhere they performed. BDB will tour the EU again in 2018 and performs throughout New England, NYC/Brooklyn and the East Coast for now. BDB is also starting to record their second full-length album for a 2018 release. Stay tuned!