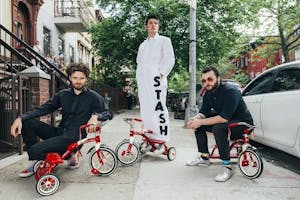 The Stash! Band with Joey Wit and The Definition appearing at Cafe Nine in New Haven
Faucet of Love turns out to be the perfect name for the sophomore effort of The Stash! Band – the group formed by singer/songwriter/guitarist Stash Wyslouch, as a creative outlet from his day job as a bluegrass acoustic guitar phenom for both banjo player Greg Liszt's The Deadly Gentlemen and currently as a proud member of Molsky's Mountain Drifters. The album will be self-released on September 15 in both physical and digital formats.
Featuring drummer/vocalist Sean Trischka, fiddle player Duncan Wickel and bassist Noam Wiesenberg, the new, 18-song concept piece represents, for Stash, tapping that stream of creativity "which pours out from 9 in the morning to noon every day, the time I set aside for writing," or, in his typically self-mocking way, "a big ejaculation."
The result is an album that works as a whole -- even as it doesn't just change musical styles from track to track, but often riff to riff within the same song, a psychedelic kaleidoscopic, multi-hybrid cross-section of Stash's own musical obsessions, starting out as an electric guitarist for "the most extreme, edgy" thrash and death metal bands, through his evolution into one of bluegrass' most promising acoustic guitarists.
Faucet of Love offers a myriad of musical reference points dancing around one another in a dizzying display of diversity. Frank Zappa's satirical, tongue-in-cheek, but slyly political lyrics and jazz-rock precision can be heard in songs like "Kill Everything," while the polyrhythmic playfulness of the Beastie Boys and DEVO strike a chord in "Rumination No. 1 (The Wonder Song)." Stash's teenage roots as a heavy metal guitarist shine through in the martial, prog-rock metal of "Swollen Up with Pride" along with the jackhammer, runaway punk of "Rumination No. 3 (Eggs 'n Coffee)." Fuse Steely Dan's smooth jazz to Flatt & Scruggs' "Orange Blossom Special" picking ("Message Face") and the high, lonesome plaints of Ralph Stanley to forays into blues-rock ("You Don't Want Me"), gospel ("Rumination No. 2") and hip-hop/Latin rhythms ("Pigeons"), and you have the ingredients for The Stash! Band's wide-ranging musical recipe.
"I didn't consciously set out to cross genres," explains Stash. "I wake up and this is what flows out."
And flow it does, like its namesake Faucet, a torrential downpour of disparate sounds and images that somehow go together, beginning with "My Body's a Fun Machine" and ending with the sardonic "The Internet's My Brain," which covers the gamut of Stash's ambivalent technological dread as he observes, but by no means eliminates himself from, the rise of artificial intelligence. In songs like "Message Face," he captures the image of an individual lit by the illumination of their iPhone, "hoping to get laid," and in "Machines" the threat of automation replacing humans.
"I'm just as guilty," he says. "Whatever frustration I express about other people and technology, I also blame myself."
Elsewhere, Stash takes on both politics ("Kill Everything," "More War") and religion ("Rumination No. 2") with typically contrarian lyrics that balance irony and sincerity, while admitting there are no easy answers to either.
For a master craftsman like Stash – who composes all these songs before recording them with his group – Faucet of Love has a refreshing sense of self-effacing humor to puncture whatever pretensions derive from his musical profundity.
"Part of it is, I don't think about it too much," he laughs. "Because that would make it contrived. I enjoy humor in music, so that's what naturally comes out when I'm writing."
Raised in Lexington, MA, north of Boston, Stash is the son of a Polish father and Colombian mother, and you can hear that cultural marriage in his music, at once classical and deeply rhythmic, with roots in Europe and South America. He started playing piano at age 7, picked up guitar at 12, then went to college to become a civil engineer, before abruptly shifting gears – like so much of his music – and entering Berklee College of Music from 2007-2010, "where I found my voice," honing his skills as a guitarist, singer, composer, arranger and songwriter which can be heard on Faucet of Love.
While still in high school, Stash cut his teeth in a variety of thrash and death metal garage bands before graduating to perform acoustic guitar in what he calls "a bluegrass American-roots style with a progressive experimental edge." After a stint in Liszt's The Deadly Gentlemen -- releasing an album on Rounder Records, and opening for such neo-bluegrass stalwarts as Del McCoury, David Grisman, Chris Thile, Peter Rowan, Michael Daves and the Infamous Stringdusters at many of the leading folk and bluegrass festivals -- he joined Bruce Molsky and Allison DeGroot in old-time music band Molsky's Mountain Drifters and remains a working member of the group.
Regarding his dual roles in the Stash! Band and Molsky's, Wyslouch notes, for those fans who got into bluegrass/roots music with the Grateful Dead, there may well be some overlap in his two, seemingly disparate musical styles. "For me, it's all one thing," he explains.
When considering his own high-wire act to maintain his interests, Stash calls it "a balance of being inspired, having good-natured, positive people around and using my skills to the best of my abilities. I'm always exploring different stuff. I love old-time traditional music with all its weird, extreme, bizarre, obscure areas. But I don't think consciously about making a statement, but rather use my instincts to approach things uniquely. There's a certain degree of exploration that keeps me satisfied and happy during those three hours after I get up in the morning, when I switch off the iPhone and venture out on my guitar. At the end of the day, I feel pretty good about it."
And after experiencing the results on the genre-tripping Faucet of Love, so will you.
As he sings in his song, Throwing Stones, "...I'm a son to the North and a brother to the South", Joey Wit's story is just as unique and original as his sound. As a former professional athlete, it would seem Joe dedicated the majority of his life and childhood to the game of baseball. However, music was just as important as athletics in his upbringing. Growing up in a household with parents whose record collection included everything from Chet Atkins, Duane Eddy and Elvis Presley to Pink Floyd, Jimi Hendrix, and The Rolling Stones, it's easy to see how the Connecticut native gravitated towards rock and roll. After spending several years in the American Southeast (Durham, NC) working on his musical craft, Wit returned home to New England in 2015 and started recruitment for his rock and roll outfit, now known as The Definition (Clay Selmont-Guitar, Guido Falivene-Bass, Nate Manware-Drums, Nathanael Oakes-Keys). Drawing on inspiration from countless sources such as the Beatles, Radiohead, Wilco, Doves and Ryan Adams; Joey Wit and The Definition offer an innovative and energetic approach to rock and roll with a little something every music fan can appreciate.