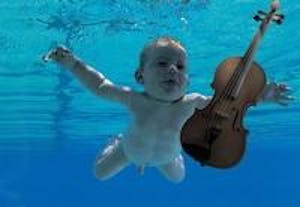 The Tet Offensive Plays The Music Of Nirvana, Falconeer
$10.00
Currently being rescheduled
The Tet Offensive Plays The Music Of Nirvana
The Tet Offensive
To commemerate the anniversary of the death of Kurt Cobain, the Tet Offensive will perform an all-strings arrangement of Nirvana's "Nevermind" in its entirety at Cafe Nine.
The Tet Offensive are a string quartet-powered rock band led by singer and composer Brian Robinson, featuring musicians trained at some of the top music schools in the country, from the Yale School of Music, The Juilliard School, and Mannes College of Music. Formed in New York City, the Tet Offensive played to audiences at CBGBs and the Knitting Factory covering bands as wide-ranging as Nirvana and the Bee Gees. Now based in New Haven, CT, the Tet Offensive has become a formidable ensemble, performing original songs that dig deep into the uncomfortable tracts of the human condition, strongly influenced by bands like Radiohead, and Nick Cave. It's the Tet Offensive's mission to show that traditionally "classical" instruments have just as much bite and visceral energy as the standard rock quartet, and can send audiences into the same energetic throes as guitar, bass and drum-fueled ensembles.
Falconeer is a new instrumental audio/visual project bringing the spectacle back to live music in New Haven CT. Blending over the top synth pop and retro game influences, Falconeer builds on a vintage synthesizers, modified video game consoles, and a bit of tongue in cheek nostalgia for hyperbolic electronic hits of the 80s to make a sound somewhere between Kraftwerk and LCD Soundsystem. As a performance Falconeer uses mechanized sounds, but the human element never leaves the equation. All of the songs have a goal, and the whole production is carried out by one man, live on stage, without the aid of a modern computer. The culmination of years of experimentation with electronics and chasing classic sounds, Falconeer began in earnest in 2017 with a collection of animated and constantly moving tracks that conjure dreams of electric sheep.