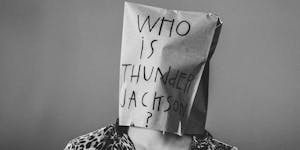 Thunder Jackson
daniprobably, Private Language
$0.00 - $5.00
Tickets At The Door
On Eventbrite
FREE WITH RSVP ($5 at the door)
daniprobably is two-piece indie rock with a pop edge, dreaming up songs about movies and quantum mechanics, the Kids in the Hall, falling in love on the dance floor and everything in between.
The longtime moniker for solo performances by Danielle Capalbo (vocals and guitar, ex-Quiet Giant), daniprobably expanded in summer 2018 to include Adam Bensen, who plays drums and sings bass. Together they move deftly from riffy garage earworms and yawping, snarling vocals to lush-landscape ballads built on loops and soul melodies.
daniprobably released their debut music video on February 1—a reimagining of The Little Mermaid's "Part of Your World." In 2017, Vanyaland premiered daniprobably's cover of "American Girl." The band will release its debut EP on Nov. 15, 2019.
Brian Slattery of New Haven Independent describes Private Language as "fun and thoughtful, introspective and engaging" and describes their sound as having "unfussy beauty". Upon hearing a recording, a friend of the band analyzed "this is like if Silversun Pickups and The Black Keys had a babyt who took a little Xanax." (Private Language in no way condones providing pharmaceuticals to infants).
Since the CT-based indie rock band's inception, the roster has evolved to be Ryan Sindler, Nikolai Corley, Matthew Peddle and James Casciato. Since 2017, their live music has reached out of Corley's basement apartment laundry room into the New Haven music scene and crept as far into New England as Portland, ME.