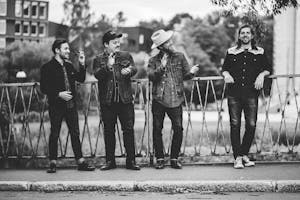 Ward Hayden and The Outliers
Hitch and The Giddyup
$15.00
Tickets At The Door
Ward Hayden and TheOutliers bring their Tribute To the Legacies of Country Music to Cafe Nine.
Ward Hayden and the Outliers, (formerly Girls Guns & Glory), who recently took home Country Artist of the Year honors at the 2019 Boston Music Awards, have put together a stunning show in celebration of Country Music.
This show pays tribute to the music that established the Country & Western genre and wove itself into the fabric of our culture. It runs the gamut of country greats and also touches on the more obscure, but equally incredible country artists, all whose legacies deserve to be championed, appreciated, and preserved.
From Hank Williams to Hank Thompson, from Willie to Waylon, from Dolly to Emmylou, this special performance covers the greats and a whole lot more. This is a show that's not to be missed.
Moving nimbly from traditional folk to progressive bluegrass, Hitch and the Giddyup trade in the musical wares of soulful singing, hot picking, and deft song craft. The group got their start in 2014 hosting a bluegrass night at their local bar, where they still hold court once a month. Spitfire banjo, punchy mandolin, and nimble guitar work combine with rich vocal harmonies to create a unique yet familiar sound.