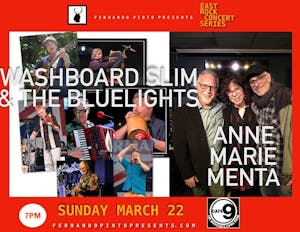 Fernando Pinto Presents: East Rock Concert Series at Cafe Nine
Washboard Slim & The Bluelights
Anne Marie Menta
$15.00 - $20.00
On Brown PaperTickets
Fernando Pinto Presents: WASHBOARD SLIM AND THE BLUELIGHTS / ANNE MARIE MENTA -
WASHBOARD SLIM AND THE BLUELIGHT'S music comes from the root of traditional American popular music. The Bluelights draw on a variety of traditional musical forms and they've created a new musical style equally respecting the past and the present – a typical Bluelights performance might include original tunes, early jazz, blues, swing, standards, jug band, early string band, gospel, pop music from the turn of the century and rootsy rock'n'roll. Started in 1986, they continue to perform at festivals, concerts and clubs around the country. In 2008 they won the Connecticut Blues Challenge and entry into the International Blues Challenge in Memphis, Tennessee. They're available to play a wide variety of settings including concerts, festivals, private parties, dances, and educational shows. The Bluelights have two CD's in print: Rub That Rhythm and most recently Back To The Well.
Anne Marie hails from New Haven, CT, where she has been a long-time favorite singer/songwriter. She comes from a family of three brothers where playing and listening to music was their greatest passion. In 1998, she released her debut album "Untried & True", followed by "When the Love Ran Deep" in 2004, and "Seven Secrets" in 2009. Her fourth collection, "Sky Tonight" is in production and slated for release in fall 2019.
Anne Marie has opened for artists such as Richard Shindell, The Kennedys, Cheryl Wheeler, Sally Barris, Eddie from Ohio and Linda McRae, and has been a featured performer at the CT Folk Festival in New Haven, CT. She was a finalist in the 2004 South Florida Folk Festival Singer/Songwriter competition, and a showcase artist at NERFA (New England Regional Folk Alliance.)
Anne Marie accompanies herself on acoustic guitar, appearing solo or as part of an acoustic band. The band featured on "Sky Tonight" includes fellow CT musicians Mark Mirando on piano, Bob Csugie, upright bass, Cadence Carroll, percussion and harmonies, and producer Richard Neal on mandolin, guitar and dobro. Sky Tonight was recorded at Neal's 34 West Recorders in Sandy Hook, CT, and mastered by Vic Steffens at Horizon Music group, West Haven, CT.
Anne Marie's songs range stylistically from contemporary folk, Americana, acoustic pop, country, and folk-rock, all featuring her warm vocals and solid guitar. The tunes reflect her wide influences and devotion to Joni Mitchell, Rosanne Cash, Emmy Lou Harris, Lucinda Williams, and Mary Chapin Carpenter, to name a few. The songs touch on the usual themes of love, life, and loss, but they deliver the listener to the not-so-usual place of recognition, empathy, solace and hope. Anne Marie pairs her poignant lyrics with catchy melodies to create moving song memoirs. Equally melodic and lyrically driven, the songs might be described as autobiographical meets storytelling, personal meets universal, childhood meets adulthood, love meets loneliness, family embraces family, friends share love.