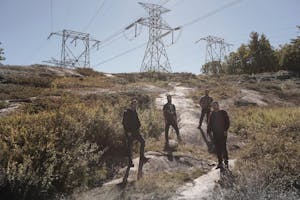 Wess Meets West, SeepeopleS, Ports of Spain
A triple bill of heavy hitters for your Friday night listening pleasure.
Wess Meets West infuse elements of Electronic Music and Post Rock to blend otherworldly soundscapes. They have been featured in Paste Magazine, Electronic Musician magazine, Premier Guitar, NPR Morning Edition, CBS, Wrangler, ESPN's X-Games and most recently, Spotify's Deep Focus Playlist which has over four million plays. Wess Meets West has been labeled as a "Top Ten Bands from CT You Need to Know" and a "Top Up-And-Coming Connecticut Bands to Check out in 2016." 2017 Best In State CT New England Music Awards.
The anti-genre indie pranksters SeepeopleS have been a band for 17 years. The band, which is the brainchild of bandleader/songwriter/producer Will Bradford, has released 5 full length albums and 2 EPs on their own imprint, RascalZRecordZ. It would be an accurate statement to say that there isn't a single band on the planet that covers as much ground musically, or traverses through as many musical universes as SeepeopleS does. Musicians have long since taken notice and members of Morphine, Spearhead, Dave Matthews Band (Tim Reynolds), and even members of Parliament/Funkadelic and Lynyrd Skynyrd are featured on previous albums. All seven records were co-produced by Will Holland (Pixies, New Pornographers, Dead Can Dance) The band has toured ceaselessly, playing over 1500 shows in 46 states during their long career. Most importantly, SeepeopleS features songwriting that is the definition of timelessness and lyrically have been busy writing the most important musical anthems of our generation. It may be long after our lifetimes before this band gets their due, but they certainly will. Nothing this good can remain hidden forever.
As far as "hype" goes, the band was recently nominated for "Best Live Act" for the 2016 New England Music Awards. Other nominations include "Best New Artist" (Relix Magazine Awards 2007).The band has shared the stage and toured with such acts as Death Cab for Cutie, Franz Ferdinand, Cracker, De La Soul, The Pharcyde, Ben Harper, Kula Shaker, Presidents of the United States and have even had Jon Fishman (Phish) join the band for a SeepeopleS set during a Bernie Sanders rally. They have been featured in Pop Matters, Magnet, Exclaim, High Times, Relix. DRUM Magazine, Blue Walrus and now Daytrotter, to name a short few. Their music has been used on Judging Amy (TNT), The Gates (ABC), and in feature films such as 'Canvasman,' and 'Wheels Over Paradise,' as well as on the Discovery Channel and NASCAR broadcasts. They provided most of the music for the Headcount (voting registration) documentary 'Call To Action' and have played CMJ, SXSW, as well as a major music festivals' Wakarusa and Allgood Music Festival.
Recently the band released their newest EP, 'HATE' in 2017 as well as a brand new video animated by Pete List (Celebrity Death Match/MTV, Marilyn Manson). The band has been on tour for the past couple years in support of their triple series of EP releases, 'LOVE,' 'HATE,' and 'LIVE,' which is scheduled for release this Christmas. All three EPs will be released digitally with some bonus tracks as 'SeepeopleS LOVE HATE LIVE' at that time as well.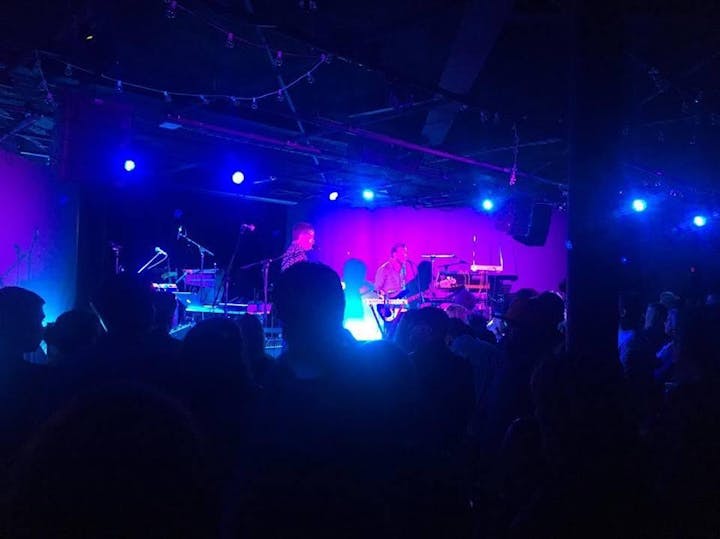 From the back of the bar, Ports of Spain instantly scan as a full band, so it's a shock to discover their mathy shoegaze-pop is constructed by just two musicians . Ilya Gitelman uses octave pedals and loops to play lead, bass and rhythm guitar simultaneously, while Sam Carlson contributes vocals, keyboards and drums. Don't be fooled -- Ports of Spain are not another band that trades directionless loopy jazz odysseys for pure songcraft. Their equipment never gets in the way of their complex melodies. They write actual songs, consistently avoiding complication for the sake of complication. They juggle tons of ideas in every song, creating a noise that's consistently about to fall apart. That it doesn't is incredible by itself. Their brilliant songs may seem like a bonus under these circumstances, but don't underrate Ports of Spain. Even as these two guys spew chaos into crowded clubs, their songwriting is always there to remind you why a grounding in planned songcraft keeps so many of the best bands tethered to excellence. Ports of Spain belong in their company. Ports of Spain have played with bands like The Dodos, Tera Melos, Hospitality, Beach Fossils, Fang Island, Pissed Jeans, Pile, ONWE, Speedy Ortiz, Morning Teleportation, Kal Marks, The Paper Kites, and Solids.
"Ports of Spain is a small band with a large potential for success."
- Paste Magazine
"Gitelman re-creates parts he played in the studio — sinewy chord progressions, sub-octave bass riffs, surf-rock strumming patterns and arpeggios — without necessarily being constricted by them, and also sings. Carlson croons bright melodies, plays tom-driven beats, bashes cymbals and works a keyboard with one hand. Each man's routine is a tightrope act, synchronized with the other's."
- The Courant
"Ports of Spain goes a sonic step beyond the two-man band paradigm."
- Connecticut Post
"New Haven's Ports of Spain are Worth Seeing Over and Over"
- The New Haven Advocate
"Winter's Teeth — a plinky, reverb drenched, airy, indie-rock song, replete with washes of background vocals tribal drums. The musical proficiency and layers of high quality production apparent on this track mark Ports of Spain as a band to watch."
- The Noise (Boston)
"fast-paced and experimental, catchy, surprisingly-not-better-known"
- Musicfyre