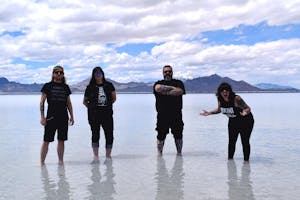 The Sunday Buzz Matinee from Cygnus Radio
Year Of The Fist
$8.00 - $10.00
Tickets At The Door
Infamous Oakland Punk Rockers
Year Of The Fist reaches from Oakland, California where there has been no shortage of great musicians and bands to play with or catch live on any night of the week. In 2011 three friends found themselves in a position to play in the same band instead of different ones. Together their musical backgrounds spanned the genres of blues, dance, punk, country, metal and folk but all have the love for rock and roll. This has led them to open for a wide spectrum of acts such as L7, Save Ferris, MDC, 88 Fingers Louie, The Vibrators and Zeke to name a few. With 8 years under their belt as a band, Year Of The Fist has released two albums with a third on the horizon, multiple regional and international tours and several music videos with no end in sight.
Warbats is a fresh punk rock outfit out of West Haven, CT. Steph Brown (La Tunda), Jon Conine (Lord Fowl, Grizzlor), and Tom Stringer form the trio, delivering raw punk rock with pop sensibility.
Look out for thier first full length, Temper Tantrum, coming out soon!